Eco School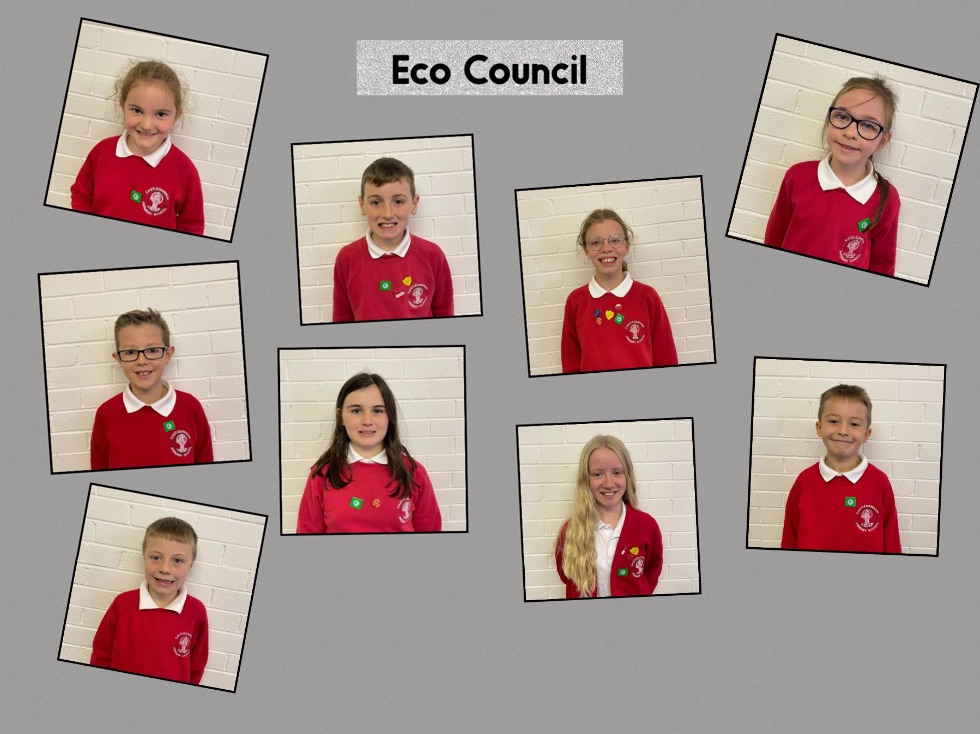 The Eco Schools Green Flag is awarded to schools that care deeply for the environment and who encourage and foster positive change in environmental awareness.
Castledawson Primary School was first awarded the prestigious Green Flag in 2011 and we now proudly fly our fourth Eco Flag! We are proud of the interests and efforts our pupils have made working towards the eleven environmental targets which consist of:
Litter
Energy
Water
Waste
Transport
Healthy Living
Outdoor Learning
Biodiversity
Global Perspective
Climate Action
Marine
The Eco Committee is made up of pupils who are instrumental in promoting change. The children regularly help to plan and take part in assemblies and events.
We have focused our attention on the following targets:
Healthy Living / Transport : Linked to our Silver Active Travel Award the children took part in many events to promote walking, cycling and scooting to school. As a school we encourage healthy breaks and exercise. Children enjoy taking part in the Daily Mile and regular "brain breaks" during class time. Lots of clubs are available to promote sport such as hockey, football, rugby and dance.
Outdoor Learning: We are proud of our outdoor area which our parents have helped us to create and maintain. Infant classes use this area weekly for outdoor play sessions. The children love learning outside and teachers throughout the school use the school grounds to develop learning experiences in literacy, numeracy and science.
Biodiversity: Children have been using the outdoor areas to learn about plants and animals. Pupils in the Foundation Stage explored seasonal changes in trees and how animals prepare for winter. The children had fun experimenting with leaves, making hedgehog boxes and bird feeders. Classes are planting flowers and vegetables in our raised beds linked to their curriculum work. This helps to raise awareness of how our food grows and educate all about the importance of bees as pollinators.
Waste / Energy We strive to reduce waste and energy costs surveying usage in school and encourage families to take action to reduce waste at home. The children love using reusing and recycling packaging to create junk art models and for sowing seeds. Our Eco committee have sold refillable water bottles to raise funds for eco initiatives and to encourage less plastic in our lunch boxes. The children are keen to ensure energy is saved and are quick to comment wasteful habits.

Global Perspectives: Through our curriculum and Rights Respecting Award work children are considering their rights and responsibilities in a global society. We have held whole school events such as Energy Week, Fair trade Week and World Ocean Day. We used parent assemblies to highlight the importance of single use plastic and pupils surveyed lunch boxes in an effort to reduce this form of waste.
Pupils and staff appreciate the support offered to us by friends, family, local businesses and the council in raising awareness of environmental issues and helping us encourage our children to become global citizens.
Castledawson Primary School 72 Main Street Castledawson, Magherafelt, BT45 8AB | Phone: 028 79 468309