Well-Being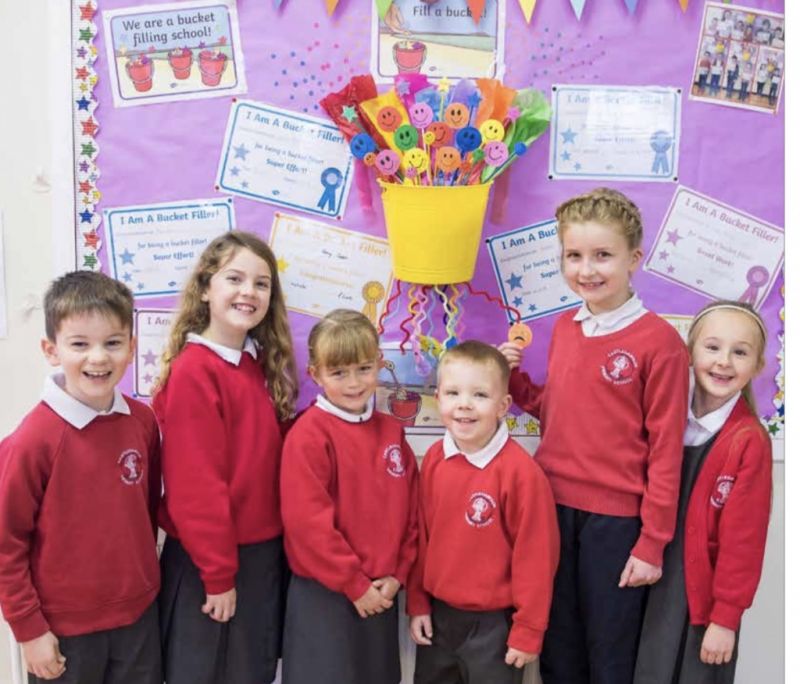 Well-being and Mental Health in School
Castledawson Primary School values the wellbeing of all staff and students within their community. The school provides a wide range of support to promote the wellbeing of staff and students, including nurturing activities, our extensive pastoral support, calming and breathing activities for all children, calm and quiet areas of school and classroom, bucket filling activities and well as promoting growth and mindset activities. We raise awareness of mental health and supporting our children's well-being through a wide range of social and emotional experiences. We have a Health and Well-being policy and hold workshops for parents to develop the home school partnership in developing positive experiences for our children.
Take 5
We promote the five simple steps to help maintain and improve wellbeing and aim to build these into our daily schedule – we think of them as our 'five a day' for wellbeing.
Connect with the people around you: family, friends, colleagues and neighbours at home, work, school or in your local community. Think of these relationships as the cornerstones of your life and spend time developing them. Building these connections will support and enrich you every day. In CPS we connect with our community through events and ensuring our parents feel connected and valued in school. We also enjoy participating in community events so our pupils can realize their sense of belonging not just to our school community but also to their village.
Be active Go for a walk or run, cycle, play a game, garden or dance. Exercising makes you feel good. Most importantly, discover a physical activity that you enjoy; one that suits your level of mobility and fitness. At CPS we participate in Daily Mile and promote Active Travel to develop healthy lifestyles. Our afterschool clubs also promote activity and sport.
Take notice Stop, pause, or take a moment to look around you. What can you see, feel, smell or even taste? Look for beautiful, new, unusual or extraordinary things in your everyday life and think about how that makes you feel. We take part in Thankful Thursday which involves reflecting on our world and our lives and what we have to be thankful for. Circle times and assemblies as well as our Rights Respecting Work in school also fulfil this aim.
Keep learning Don't be afraid to try something new, rediscover an old hobby or sign up for a course. Take on a different responsibility, fix a bike, learn to play an instrument or how to cook your favourite food. Set a challenge you will enjoy. Learning new things will make you more confident, as well as being fun to do. Children are encouraged to try new things not just during their learning in the classroom but outdoors and also in after school clubs. They are encouraged to set personal goals and take risks in their learning.
Give Do something nice for a friend or stranger, thank someone, smile, volunteer your time or consider joining a community group. Look out as well as in. Seeing yourself and your happiness linked to the wider community can be incredibly rewarding and will create connections with the people around you. In CPS we have random acts of kindness weeks and events. Our bucket filling initiative also develops the act of giving.
If you Need Help with Child Mental Health
Local Help
Your GP
They will be able to provide help and advice. Your GP can also provide access to appropriate specialist services and local organisations.
Call 111
You can call 111 when you need medical help fast but it's not a 999 emergency. NHS 111 is available 24 hours a day, 365 days a year. Calls are free from landlines and mobile phones.
NHS mental health services
Find local mental health services on the NHS website. http://www.nhs.uk
National Help
Childline Free 24-hour counselling service for children and young people up to their 19th birthday.
Beat Provides helplines, self-help groups and online support to anyone affected by eating disorders.
Helpline: 0808 801 0677,
Youthline: 0808 801 0711,
Studentline: 0808 801 0811

The Samaritans The Samaritans provide a confidential service for people in despair and who feel suicidal.
116 123

NSPCC Provides helplines and information on child abuse, child protection and safeguarding children.

Young Minds Young Minds has a Parent Helpline that offers free confidential telephone and email support to any adult worried about the wellbeing of a child or young person.
http://www.youngminds.org.uk/for_parents

Youth Wellbeing Directory
Helps you find support for mental health and wellbeing of young people up to age 25 across the UK.
https://www.annafreud.org/on-my-mind/youth-wellbeing/

HaveIGotAProblem.com
Free resource about mental health and addiction issues. It has advice and documents on issues including depression, anxiety, self-harm, bipolar, eating disorders and coping.
http://www.haveigotaproblem.com/

Helplines partnership
Provides a comprehensive list of mental health helplines in the UK.
https://helplines.org/helplines/

Mental Health Foundation This website offers a wide range of information about mental health issues.
http://www.mentalhealth.org.uk

Health Talk Online
Aims to provide balanced information about the experience of everyday life with a range of health conditions and issues, what to expect both physically and mentally, overcoming practical difficulties, making decisions about treatment and talking to health professionals.

YouthinMind
YouthinMind is an online resource for information about mental health and offers brief assessments. It also provides links to other useful books, websites and services. http://youthinmind.info/py/yiminfo/
Preventative Curriculum
In Castledawson Primary School we teach and promote a preventative curriculum to help off set any unwanted, negative experiences in school. As well as permeating our whole school ethos and the relationships at every level within our school, we want our children to be well equipped to deal with such experiences if they occur by ensuring they are well-informed and have already explored scenarios and feelings surrounding certain experiences.
For example in..
· Circletime
· Assemblies
· Through PDMU
· Bucket Filling activities
· Growth and Mindset
· Conflict Resolution
· Health and well-being activities – daily mile, active travel, exercise, active clubs, calming and breathing activities, nurturing events and strategies, bucket filling, feelings thermometer
· Knowing who they can talk to in school and keeping them safe
· Celebrating and raising awareness e.g. Safer Internet Day, Anti-Bullying Week, Children's Mental Health Day/ Week and programmes with Action Mental Health - Healthy Me
· School Values and promoting resilience through whole school programmes e.g. That Thing I Do
· Inviting visitors into school about staying safe– PSNI, NSPCC etc and visits to RADAR and BeeSafe
· Listening to their views
· Sharing with our parents
Castledawson Primary School 72 Main Street Castledawson, Magherafelt, BT45 8AB | Phone: 028 79 468309