Anti Bullying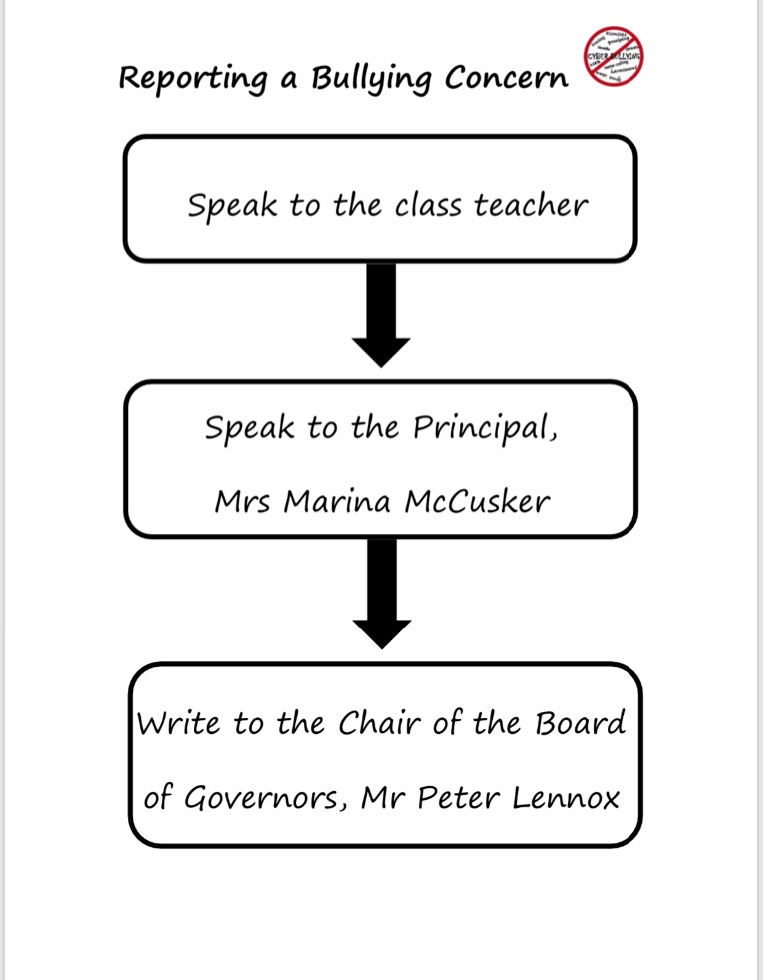 Ethos
'We work together as a team at Castledawson Primary school to create a happy, positive, secure and inclusive environment for every member of the school community. We have a child centred approach and are dedicated in ensuring that every activity has our children's needs and interests as the first priority. We strive to develop the whole child – academically, emotionally, physically, spiritually and socially. We promote a Christian and caring ethos and aim to develop a culture of respect, fairness, cooperation, perseverance, self-discipline, forgiveness, honesty, kindness, acceptance and responsibility at all levels within the school. Our ethos is reflected in all areas of school life. We aim to promote relationships built on honesty, trust, respect and openness, ensuring everyone is valued and respected and feel a sense of belonging to our school where the efforts and achievements of all are celebrated. We believe that happy children, staff and parents are key to positive learning experiences and a successful school.'
In Castledawson Primary we have ZERO TOLERANCE to bullying and find it completely unacceptable.
The Addressing Bullying in Schools Act (Northern Ireland) 2016
Definition of "Bullying"
1.—(1) In this Act "bullying" includes (but is not limited to) the repeated use of—
(a)any verbal, written or electronic communication,
(b)any other act, or
(c)any combination of those,
by a pupil or a group of pupils against another pupil or group of pupils, with the intention of causing physical or emotional harm to that pupil or group of pupils.
(2) For the purposes of subsection (1), "act" includes omission.
Addressing Bullying in Schools Act 2016
The Addressing Bullying in Schools Act (Northern Ireland) 2016 will come into commencement on 2 September 2019. In Castledawson Primary School we have revised our Anti-Bullying Policy ensuring that it meets the new legislative requirements following consultation with all stakeholders.
There recognise there are many forms of bullying and these are outlined in our school's Anti-Bullying Policy found in the Policies section of this website. The policy also outlines the school's approach to preventing and dealing with bullying.
Preventative Curriculum
In Castledawson Primary School we teach and promote a preventative curriculum to help off set any unwanted, negative experiences in school. As well as permeating our whole school ethos and the relationships at every level within our school, we want our children to be well equipped to deal with such experiences if they occur by ensuring they are well-informed and have already explored scenarios and feelings surrounding certain experiences.
For example in..
Circletime
Assemblies
Through PDMU
Bucket Filling activities
Growth and Mindset
Conflict Resolution
Health and well-being activities – daily mile, active travel, exercise, active clubs, calming and breathing activities, nurturing events and strategies, bucket filling, feelings thermometer
Knowing who they can talk to in school and keeping them safe
Celebrating and raising awareness e.g. Safer Internet Day, Anti-Bullying Week
School Values and promoting resilience
Inviting visitors into school about staying safe– PSNI, NSPCC etc and visits to RADAR and BeeSafe
Listening to their views
Sharing with our parents
Anti-Bullying Ambassadors
Six Key Stage 2 children were trained as Anti-Bullying Ambassadors in May 2019. The Anti-Bullying Ambassador Programme, part of the charity of the Diane Award, offers resources and training to schools throughout the UK. In their role, our ambassadors will help educate their peers on the issue of bullying, lead anti-bullying campaigns, promote a culture which celebrates and tolerates difference and helps keep their peers safe both online and offline.
Our ambassadors are...
Passionate about stopping bullying and working together to stop it
Caring and look out for their class mates
Friendly and approachable and willing to listen to other pupils' problems and provide support to them
Active in promoting kindness within the school community
Up-to-date on the work of the Anti-Bullying Ambassador Programme and happy to get involved in the work they do
The ambassadors attend meetings with the Principal, have drawn up an action for the year and will help organise events etc Feel Good Friday, Smile and Compliment Day, Kindness Day as well as participate in assembly and whole school events such as Anti-Bullying Week, Safer internet Day when they work closely with our Digital Leaders to promote online safety.
USEFUL INFORMATION FOR PARENTS
Effective Responses to Bullying
Castledawson Primary School 72 Main Street Castledawson, Magherafelt, BT45 8AB | Phone: 028 79 468309